Kadant Johnson steam jet thermocompressors are designed to boost low pressure steam by accurately mixing the low pressure steam with high pressure steam. With just three basic components; nozzle, mixing section, and diffuser, Kadant Johnson thermocompressor is simple yet highly energy efficient.
Why Kadant Johnson?
Accurate Predictions of Syphon Characteristics
Kadant Johnson is the only thermocompressor manufacturer that can accurately predict syphon characteristics and match them with thermocompressor performance.
Process Knowledge
Kadant Johnson has the ability to match the thermocompressor with the paper machine operating requirements.
Dryer Drainage Systems Knowledge
Kadant Johnson has the ability to check the sizing of the syphons, separator tanks, flow orifices and lines to ensure correct thermocompressor application.
Operational Efficiency
Comprehensive testing and advanced analysis work in the Kadant Johnson Research Center has optimized the efficiency. This means less motive steam use, higher energy efficiency, and a wider range of operation.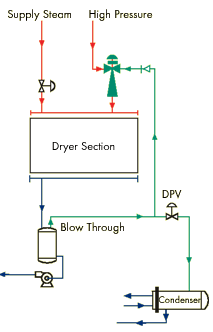 Two principal thermocompressor applications
1. Recirculating Thermocompressors
Thermocompressors are used to recirculate the blow-through steam in the dryer section. If the Differential Pressure Valve is open during normal operation, a substantial amount of energy is being wasted. This is an indication that the existing thermocompressor is not properly designed to handle the flow.
Kadant Johnson engineers have the knowledge and experience to design a thermocompressor that will close the loop under your paper machine operating conditions. Guaranteed.
2. Booster Thermocompressors
Thermocompressors are also used to boost low-pressure steam to a higher pressure level for increased drying capacity.
Maximizing the use of low-pressure steam over a wide range of paper machine operating conditions is an important task. Kadant Johnson will supply the thermocompressor that will meet the specific requirements of your machine.